Whether you want to bike, hike, shop, or just stroll, Shenandoah County is rich in natural beauty and cultural heritage. Traditionally, a county with strong commercial ties to agriculture, Shenandoah is also one of the most historic and beautiful counties in the state. Shenandoah County is proudly home to six incorporated towns: Edinburg, Mount Jackson, Toms Brook, New Market, Strasburg and Woodstock. Known as The String of Pearls, each town has unique shops, restaurants and businesses. From outside to inside, we have just what you are looking for.
Shenandoah County continues to be a place where commerce and the power of human ingenuity work not only alongside but in the context of our great national heritage. We continue to promote the general welfare of our citizens and the prosperity of our County by developing a mutually beneficial network of local businesses, stimulating public support for our business community, and taking advantage of our beautiful location.
Whether you're new to our community, "born-and-raised," or simply passing through, we hope that you'll appreciate Shenandoah County for what it offers and continue to support our local economy.
We invite you to Come Play Outdoors and get to know Shenandoah County. Hike the 178 miles of trails that wind through the George Washington National Forest, and explore over 30 miles of streams that wander down the mountains to join the Shenandoah River in the valley below.
Whether you prefer a leisurely stroll in a small town or a strenuous hike on a mountain trail, a high energy mountain bike adventure or navigating a sleek kayak down the river, settling-in for the night at a rural campground or ending your day in a cozy hotel room- we have a variety of outside activities to suit your interests.
Come Play Outdoors and discover why there's only one Shenandoah County in the Shenandoah Valley!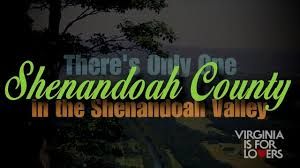 See everything there is to do right here... Come Play Outside. Shenandoah County Outdoor Recreation from Shenandoah County Tourism on Vimeo.
The Shenandoah County Chamber of Commerce is open weekdays from 9 am - 3 pm at 103 South Main St. in Woodstock.  Stop by and see us! You may also use the contact form to reach us or email us at info@shenandoahcountychamber.com, or if you wish, call us at 540-459-2542.